Financial Trustee Members
Leann Frederickson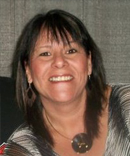 Leann is a member of Rainy River First Nation and has two children Krystal, Kyle and a grandson Kieran. Leann and her family currently reside in Winnipeg, Manitoba. Leann is the daughter of deceased Melvina Blackburde.
Leann Frederickson has been employed with the Province of Manitoba, Department of Justice since 1995. Throughout this time has been an Administrative Assistant, Pay and Benefits Clerk, Manager of Pay and Benefits and since 2005 a Human Resource Consultant. As part of Leann's role as a Human Resource Consultant she is actively involved in the Aboriginal Outreach for the Department, whereby she promotes the Department as an employer of choice. As a Human Resource Consultant for the Corrections Division, she is responsible for recruitment, retention, handling of labour relation issues and investigations.
On her free time, Leann enjoys spending time at the lake with her family, boxing, hot yoga and attending our traditional ceremonies.
Leann graduated high school from the St. James Collegiate in Winnipeg and holds a Human Resource Management Certificate from the University of Manitoba. Back in 2003 Leann also completed a two year program under the Aboriginal Management Development Program offered through The Province of Manitoba.